Sweetest Day
---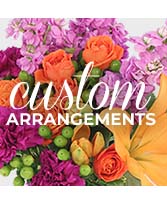 Custom Flower Design
Let us create a custom flower arrangement for you.
Order within 6 hours 14 minutes for Same Day Delivery!
Buy Now
Who Can I Give Flowers On Sweetest Day?
Unlike Valentine's Day, Sweetest Day is not a lover-exclusive holiday, nor is it as heavy weighing. Valentine's Day has been known to include elaborate gifting, special date ideas, and trying to woo your romantic partner. However, Sweetest Day is much more laid back and focused on spreading cheer to anyone around you through a small gift like flowers accompanied by a little baggy of sweet treats. You have the ability to give a non-romantic gesture to anyone you please or offer an extra expression of affection to someone close to you.
Co-workers
We work alongside peers regularly and often forget to show care and appreciation for them. Whether you have a work bestie or feel a co-worker could use a good deed or piece of encouragement, a gift of flowers can be a wonderful small way to brighten their day. If you want to share words of encouragement or affirmation with them, you can provide a personalized card message in the online ordering process that will be delivered with their flowers.
Neighbors
If you've never had formal introductions, now is a perfect opportunity to break the ice and warm their heart. Sometimes we don't know the ones who live right across or beside us. Don't remain a stranger. Break the ice and offer the kind gesture of flowers with a heartwarming card message. Not sure how to start that conversation? No problem. Smile, kindly introduce yourself, explain that it's Sweetest Day, what it is, and then offer them their gift. This could be a good way to encourage them or potentially be the beautiful beginning to a good friendship. It never hurts to spread the cheer.
Stranger
There are several people we pass every day without ever knowing personally. You pass faces at the grocery store, while out shopping, or while at an event. You see some people just in the passing, such as your mailman, the store clerk, a greeter, etc. Every person has a different path in life, job, personality, and things they may be going through. This is all the more reason why Sweetest Day could be the exact occasion needed to sprinkle some happiness into people's everyday lives and routines. Who is someone you could share some kindness with a lovely bouquet of flowers? Imagine the sweet surprise upon their face. You will have blessed a stranger and brightened their day. This is what Sweetest Day is all about.
Friends / Family / Lovers
Surprise your besties, lovers, or family with a gorgeous bouquet and shower them with words of affirmation through a special card message. Let them know how much you appreciate them and the things about them that are so special to you. If you're really close, you could select a bouquet that incorporates their favorite colors or favorite flowers. To make a truly perfect pair, you could easily add some of their favorite candies or treats along with their beautiful bouquet. If they have yet to hear of Sweetest Day before, here is your opportunity to introduce them to the sweet holiday.
Delivery
Interested in delivery for those you know? Maybe you would like to have flowers delivered to your home first before handing them out to someone new. @Shop_name offers easy and convenient delivery. Simply place your order online, type the desired address, delivery instructions, date, and we can take care of the rest. If you have any questions about your order or delivery, please feel free to contact us at (847) 680-1340.